THIS IS THE MOMENT! The 2015 Show at The Wyvern Theatre was a Big Hit!
"THIS IS THE MOMENT!" Dance Show at 600 seat Wyvern Theatre, May 2013

Dancing to Michael Jackson's Thriller for the Mayor's Charity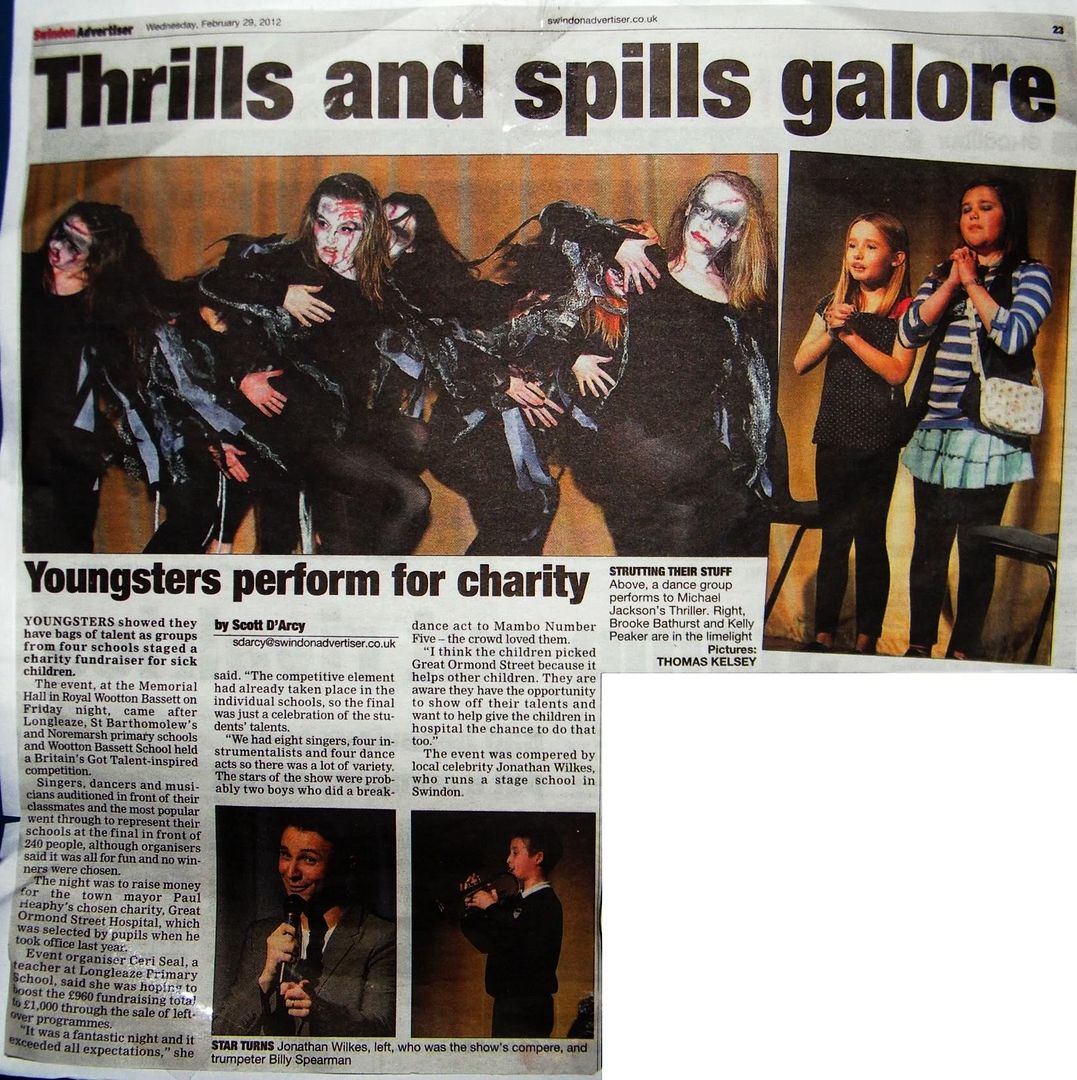 Obituary - Maureen Cockram nee Barkham
FROM THE ARCHIVES OF THE LOCAL PRESS...
Wootton Bassett pupils make a song and dance
A colourful song and dance show by 60 students from Wootton Bassett School of Dance raised over £728 for Arthritis Research UK.
The performance was dedicated to the late David Magill, a former Mayor of Wootton Bassett and long-serving president of the charity's local branch until his sudden death last October.
His photograph was displayed in the foyer of the Memorial Hall, and Dick Clark, a former branch chairman, spoke in tribute.
Mr Magill's niece Anne Weedon received flowers and a card from branch secretary Jill Thompson.
Area organiser Jenny Oakshott praised the excellence of the show's young cast.
She thanked all supporters and musical director, Kate Lawrence who is principal of Wootton Bassett School of Dance.
Published, Thursday 5th August 2010  http://www.thisiswiltshire.co.uk/  Image from report: http://www.thisiswiltshire.co.uk/resources/images/1382658/
More than £1,000 was raised for Arthritis Research by students of the Wootton Bassett School of Dance at Spring Spectacular, a colourful song and dance show at the Memorial Hall on Saturday.  Wootton Bassett ARC Branch President David Magill presented a tub of spring flowers to Mrs Lawrence, as a token of appreciation.  Pianist Fiona Fleet wsa also responsible for the Musical Theatre arrangements; lighting and sound engineers were Mark Fleet and Ian Dyer.  Backstage and front of house helpers were all thanked for volunteering their time and expertise.
The youngest dancers were on stage early, with such delightful numbers as Me and My Teddy Bear and Rock a bye Baby. Senior dancers' Georgian Trio, which won the All England Fina, and a ballet solo by the winner of the London Cecchetti Ballet Award revealed the heights to which teh school's students can aspire.  Superb costumes, imaginative, well-executed routines and accomplished vocalists all contributed to a very memorable evening.  The variety was fantastic, with jazzy numbers, National dance sequences, excerpts from musicals, graceful ballet and brilliantly dramatic dances.  The entire event was a triumph, for the school and the charity.
Choreography was by the school's teaching staff - Kathryn Lawrence, Sophie Richings and Victoria Lawrence. Teh cast's exuberance, skill and agility ensured a great show. A raffle, for which local busiensses and individuals contributed many prizes, added to the fun.
Gazette and herald, Thursday February 14th 2008
SWINDON ADVERTISER PHOTO (then click thumbnails to see more photos)
from the Gazette & Herald, Thursday March 22 2007

A lively, colourful show, Let's Dance IX! with a cast of more than 200, from pre-schoolers to over 18s, attracted packed audiences to three performances at the weekend. Wootton Bassett School of Dance staged the spectacular production directed by principal Kathryn Lawrence, at The Ridgeway School Hall in Wroughton, which has been their show venue since the former Wootton Bassett School hall was lost to housing development.

The show was a splendid showcase for originality, skill and sheer talent.


On their toes for big day
From the Swindon Advertiser, first published Wednesday 25th Jan 2006.
 WOOTTON Bassett's youth talent will be on display this weekend.
More than 150 members of the town's School of Dance are taking part in three performances at Ridgeway School in Wroughton.
The ages of the cast of Let's Dance VIII range from two to 21.
The show takes in ballet, modern dance, tap and singing.
Kate Lawrence, principal of the School of Dance, said: "It's a very good show and it should appeal to everyone. There's a lot of variety and some of it is very up to date. For instance, we are doing Westlife's You Raise Me Up."
"The show also includes numbers from the musicals Chicago and Fame.
"It's basically a dance show but there is some singing. They have really good voices.
"The little ones really steal the show."
Another item to look out for is the gymnastic pirates performing somersaults and backflips.
The School of Dance has been open for 14 years and they put on shows every 18 months.
Winning's routine for dancer
From the Swindon Advertiser, first published Tuesday 7th Dec 2004.
A TEN-year-old dance student has come first in five competitions in two months.
Beth Airey, of Wootton Bassett, at Maureen Cockram School of Dance for the last four years, won three first places at the Longwell Green Dance Festival in October and the junior section of the Wales and West Cecchetti Ballet Awards in November.
She also took the trophy at the Wiltshire Grades Competition for gymnastics in November. Her dance teacher Kate Lawrence said: "Beth has had a remarkable term. To come first in so many competitions is fantastic.
"She's lovely in training and she works very hard so it's nice to see it pay off. All her classmates are really pleased for her."
Beth's mum, Trisha, said: "She's worked really hard and so has her dance teacher.
"She's won competitions before but this is the best she has ever done.
With older sister Sally, 18 and younger sister Chloe, eight, both attending classes at the Maureen Cockram school, dance is something of a family tradition.
Beth said: "It was nice to win them. The hardest one was the acrobatics.
"I like doing jazz best because I like all the quick moves and stuff. I'd like to carry on and be a dancer."
Dancer, 6, delights examiners
From the Swindon Advertiser, first published Thursday 23rd Oct 2003.
LITTLE Sally Fowler is a ballet princess.
The six-year-old is so dedicated that she got top marks in internationally recognised ballet exams.
She attends the Maureen Cockram School of Dance in Wootton Bassett and learns the Cecchetti style, which is named after the Italian teacher who devised it.
Sally got 99 out of 100 in the Standard 1 exam from the Imperial Society of Teachers of Dance ­ the main examining board in England and abroad.
The Earl Danby School pupil, who dreams of being a ballet dancer when she grows up, said: "I enjoy everything about it.
"My teacher gave me a tape and I practised a lot with that."
Sally has also won a number of medals and trophies in competitions.
The last one was a distinction in the southwest regional final of the All England Dance Competition held in June.
She has four other siblings ­ Michelle, 26, Jason, 22, Danielle, 16 and Natalie, 13 ­ but none of them are dancers.
Her mum Jane, 42, of Brinkworth, said: "It is a little girl thing, she wanted to be a fairy so we enrolled her in a ballet school.
"She really seems to have a talent for it and she works hard.
"But she enjoys doing other things like riding her bike.
"I think Miss Kate, her teacher, is phenomenal. She is really good with all of her pupils and she doesn't have any favourites."
Kathryn Lawrence has been running the Maureen Cockram School of Dance for the past 12 years.
She said: "Sally has got a lot of natural ability. She obviously works at home and practises hard.
"It is exceptional to get results like that. A lot of children do score highly but not 99"
Sally will be competing in an Eisteddfod in Bristol next week.
Ballet star wins top scholarship
From the Swindon Advertiser, first published Monday 27th Jan 2003.
Young ballet star Megan Payne has won a scholarship to a prestigious dance school in London.
The 12-year-old dancer, who attends Wootton Bassett School, has been awarded her course fees for classes at the Arts Educational School in London, which she attends every month.
Megan has to audition every year to keep her place at the school and beat off 250 other children from around the country to win the honour.
"I feel quite pleased but I am not really sure why they picked me.
"I love dancing, it makes me happy," she said.
Megan also has weekly lessons at the Cockram School of Dancing, held in St Bartholomew's Church hall in Wootton Bassett, where children aged from three to 18 learn ballet, tap, modern and national dance.
Although Megan has been dancing since she was three, she does not aspire to being a professional dancer.
She said: "I would quite like to be a teacher and I would like to have a family so I don't think I would have time for all that."
Her mum Lorraine, of Arran Close, Wootton Bassett, said: "We are extremely proud of her.
"She is a really good girl and a real credit to us. She deserves it for all her hard work. She always puts a hundred and ten per cent into everything.
"The classes in London give her the chance to experience different types of dancing and she gets to learn at a higher level."
Megan's teacher at the Cockram School of Dancing, Kathryn Lawrence, 40, of Whittington Road, Westlea, said it was the second year in a row a pupil from the school had won the scholarship.
"Megan has worked very hard I am very pleased especially as girls from the school have got the scholarship two years in a row." she said.
Last year, it was her daughter Victoria, 11, who received the prize.